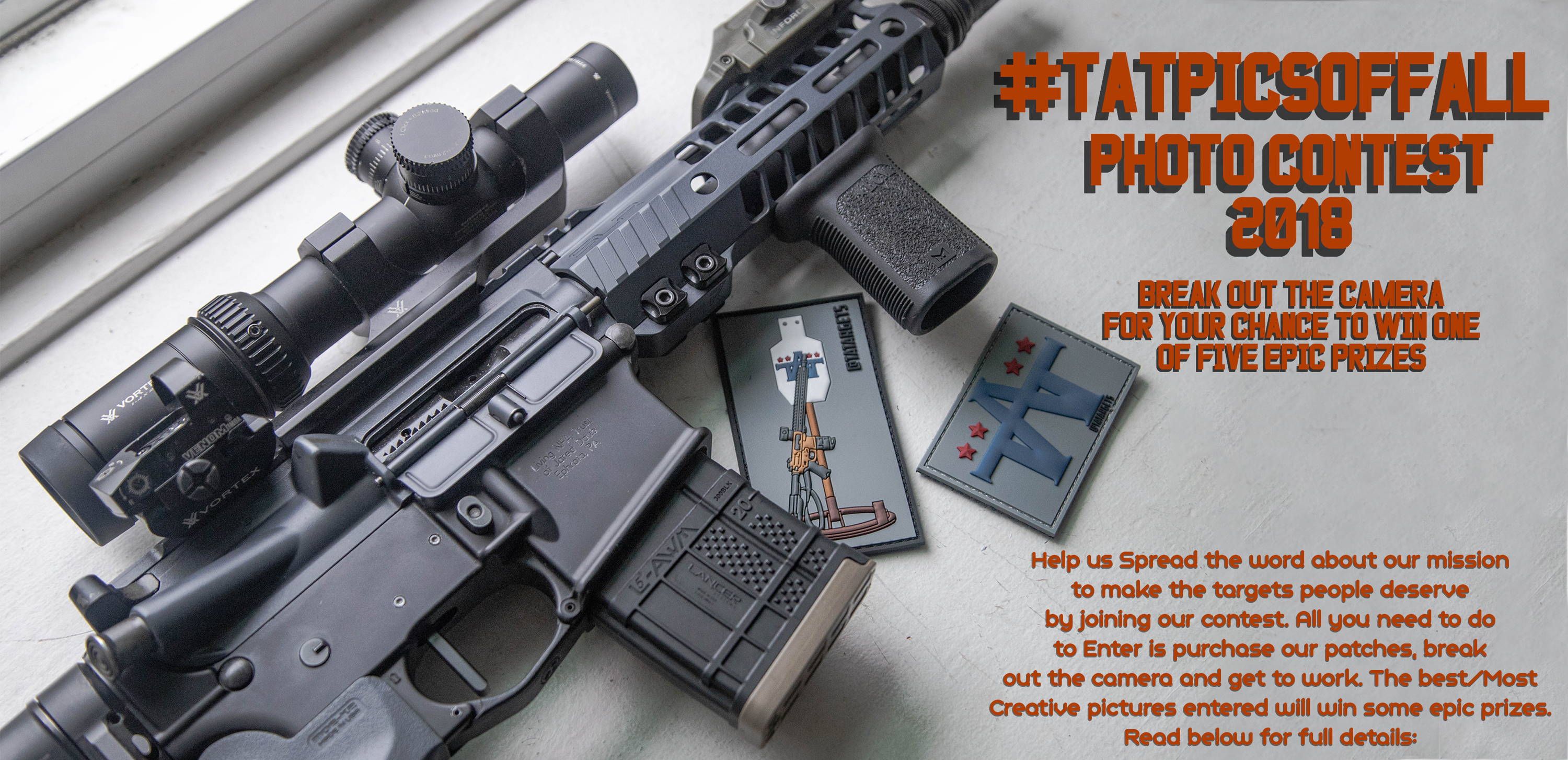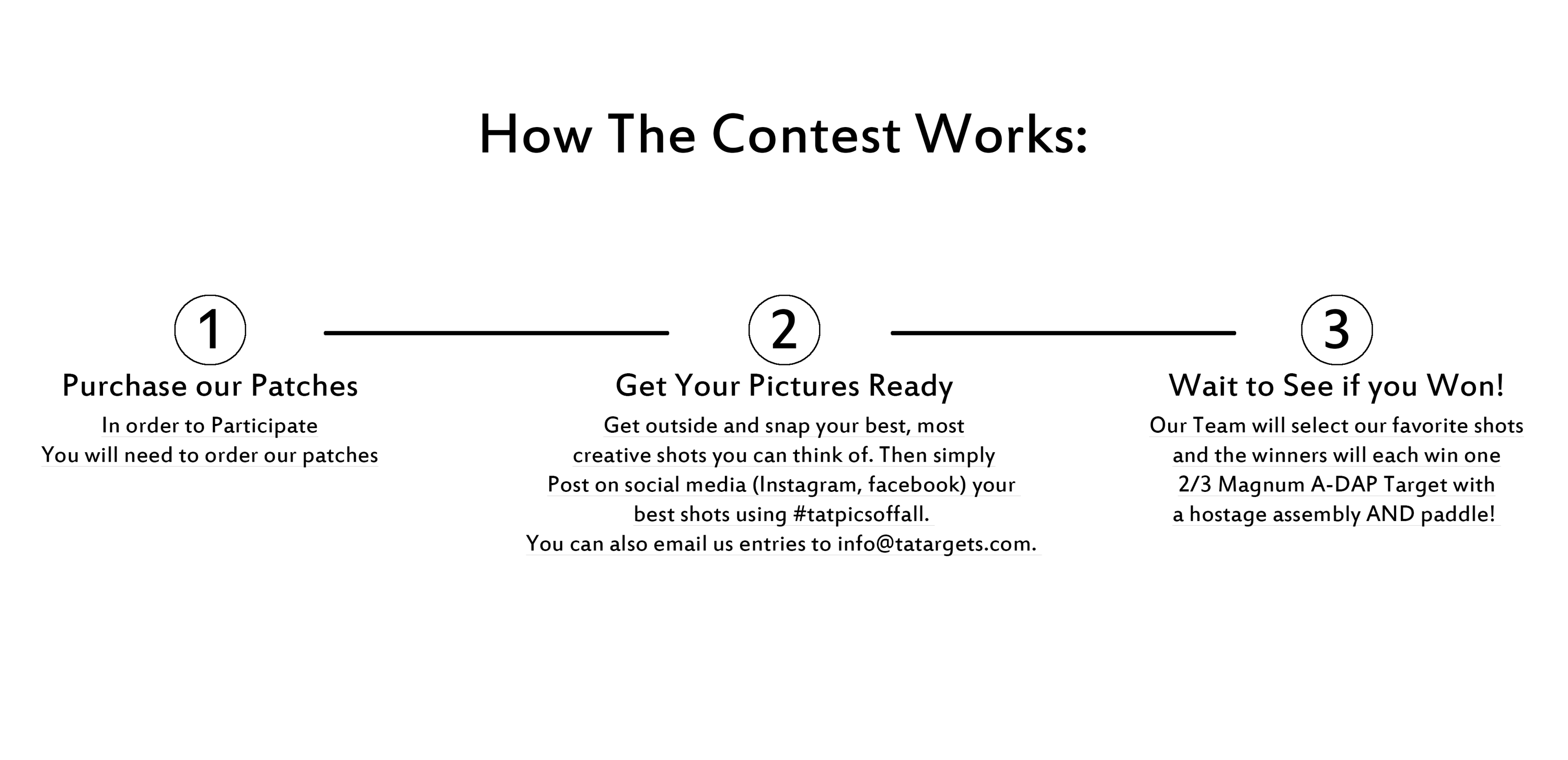 Simply select the quantity you would like to order below and then hit "add to cart".
You are ordering one of each of our patch styles.
If you would like to order more than just one of each patch or would like to
customize quantities click here to go to our patch page and to checkout there.
Checkout, wait for your patch to arrive, post your pictures, and wait for us to announce the winners!
(NOTE: Contest ends 12/20/2018 at 11:59pm or until we run out of patches, whichever comes first)
Our team will select our favorite pictures from the contest.
**PLEASE NOTE: To be qualified as an "entry" your picture MUST
contain our patches. **
The top Five that are selected will win a FREE 2/3 Magnum A-DAP Target system
made from 1/2" AR550 steel WITH our Hostage Assembly.
Be sure that you post your photo entries to your PUBLIC instagram
or facebook account and use the hashtag #tatpicsoffall!
Terms and Conditions:
Tatargets Contest named "Tatpicsoffall" Photo contest
BY PARTICIPATING, SUBMITTER ACKNOWLEDGES THAT THEY PARTICIPATE AT THEIR OWN RISK AND THAT TATARGETS IS NOT RESPONSIBLE FOR ANY PHYSICAL HARM OR DEATH THAT MAY BEFALL ANY SUBMITTER AS A RESULT OF PARTICIPATION IN THIS CHALLENGE. SUBMITTER SHOULD NOT EXPOSE THEMSELVES OR OTHERS TO ANY DANGEROUS, HARMFUL OR ILLEGAL BEHAVIOR OR ACTIVITY AT ANY TIME DURING THIS CHALLENGE. SUBMITTER AGREES TO ABIDE BY ALL APPLICABLE LAWS.
Timing of the Contest
The Tatpicsoffall Photo contest begins 11/9/2018 and will run through 12/20/2018. All photos submitted by 11:59pm (EST) on the 20th day of December 2018 will be considered timely and entered into the contest. All Entries after this timeframe are considered tardy and will not be considered during the contest.
Who May Enter:
This challenge is open to anyone who believes in the mission of Tatargets and who wants to spread the word about our company and our mission. Winners will be selected from LEGAL residents of the United States. People from outside the US are not eligible to win one of the five prizes. Please note that we reserve the right to end the contest if we run out of patches. Contest will run either to end date specified below or until inventory is out, whichever comes first.
Submission of a photo that includes our company patches constitutes one entry. Your photo MUST include our patches. Multiple entries are ENCOURAGED. Please note that multiple entries WILL NOT increase the likelihood you are chosen as a winner as this is a contest of SKILL and CREATIVITY and NOT CHANCE.
The Challenge is void where prohibited or restricted by law. Tatargets reserves the right to cancel the Challenge or modify these Additional Terms at its discretion. Tatargets decisions will be final and cannot be amended by any party other than Tatargets.
Submission Criteria:
All submissions MUST include at least one of our patches in the photo. It does not matter which style participants purchase, but one patch must be present in each picture to be considered an entry. Reposted pictures of OTHER Peoples entries will NOT constitute an entry. Entries must be the contestants ORIGINAL content, no exceptions.
How to Submit:
To submit your entry simply take your picture, post it on your social media pages and use the hashtag #tatpicsoffall. Please note you MUST include this hashtag to be entered into the contest. If you do not have a social media account you may submit your entry to INFO@TATARGETS.COM Subject line "Tatpicsoffall entry_your name".

By submitting photos through your instagram page, facebook, other social media outlets or directly through mail or email you are granting permission to tatargets to use your photo in advertising, promotion, and other uses by the company (Tatargets) at their discretion. You are also agreeing to abide by all terms and conditions located here and on our main website by entering.
Selection of Award Recipients:
A panel of Tatargets employees or ambassadors will select their favorite photos to be chosen for the prizes. To determine which Photos will win the prizes, Tatargets will consider creativity and originality, production quality, entertainment value, and creative use of our new patches. Submitters agree to be bound by Tatargets decisions, which are final and binding on all matters related to the Challenge. Winners of the contest will be notified when they are chosen on or around December 21, 2018, at 12 p.m. EST.

Prize winners:
Tatargets will award each of the winners with ONE 2/3 Magnum A-DAP system made from 1/2" AR550 steel along with a hostage paddle assembly. Winners will not be responsible for shipping. Tatargets will cover shipping fees. Winners are however responsible to claim any product value on their taxes at the federal and state levels. Tatargets is not responsible for your tax compliance. Tatargets will ship winners their targets in a timely manner to be defined by tatargets. Winners will be notified in a timely manner as defined by Tatargets once the winners are chosen. Winners will receive only the above product. There will be no substitions and the winning prizes do NOT have a cash value. We will attempt to reach out to winners via email, through their social media platforms of via phone. Winners who do not respond to us trying to contact them will be deemed unresponsive and we will choose another winner at our discretion.
Reserved:
Tatargets reserves the right to amend any of the above terms and conditions at any time for any reason. Please note that this is not a contest of chance. Winners are selected based on creativity and professionalism in their photography.
Enjoy the contest!