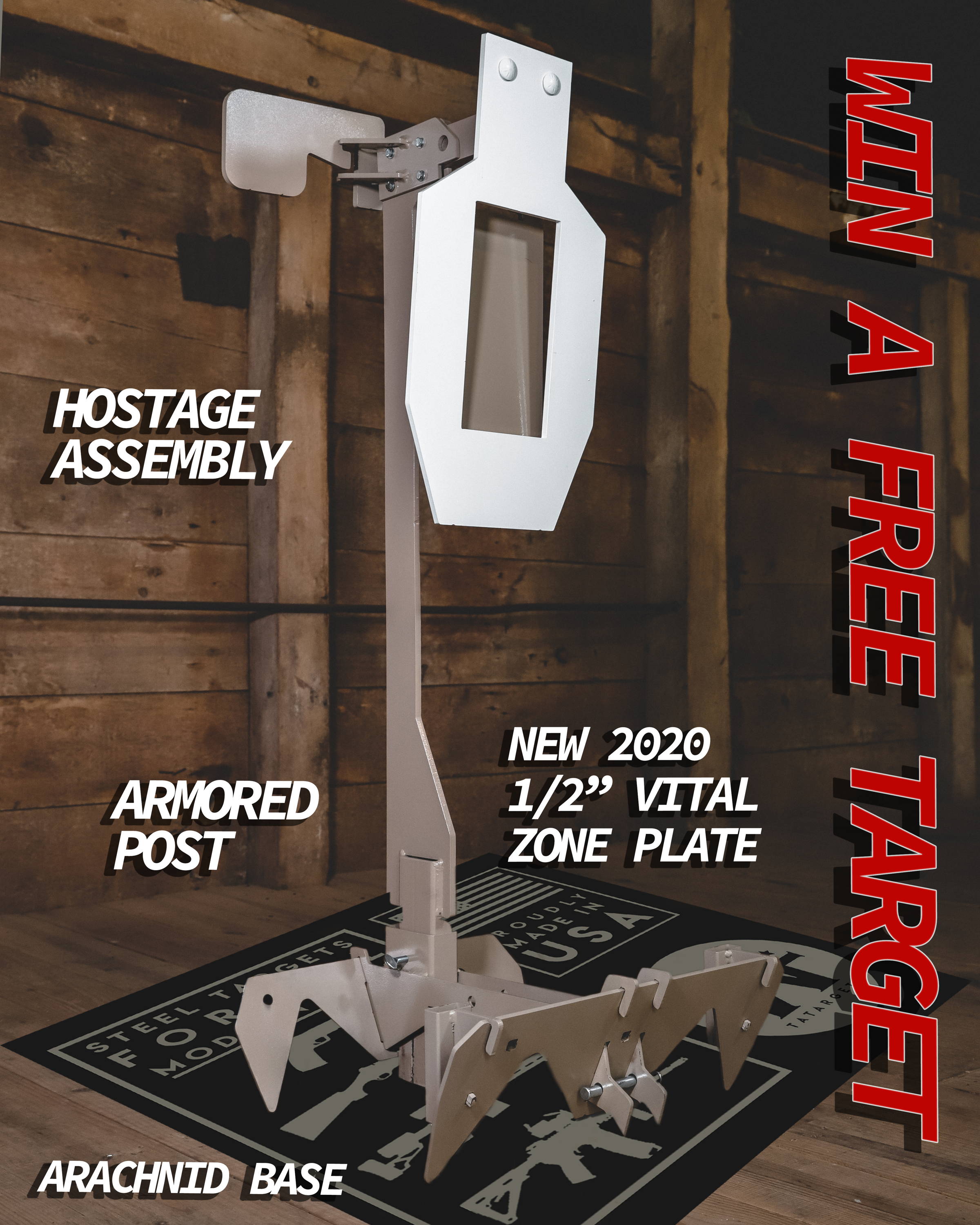 ONE lucky winner will be chosen from our Newsletter list to win a NEW, UN-RELEASED Vital Zone Target. This winner will be the first person outside of our team that has this target system. It will include an Armored post, Arachnid Armored base, and our Hostage Assembly. This is a $675.49 retail value and one of the most epic targets in existence. All you have to do is fill out the form below.
---
Giveaway begins at 12:00AM (EST) 2/19/2020 and ENDS 3/13/2020 at 11:59 PM.
---
ENTER THE GIVEAWAY BY FILLING OUT THE FORM BELOW:
---
GIVEAWAY TERMS AND CONDITIONS
No purchase or payment of any kind is necessary to enter this giveaway. Participants in the TA Targets spring target giveaway must be LEGAL residents of the United States. Giveaway VOID where prohibited BY LAW. TA Targets reserves the right to not award a prize to any person for any reason. Participation in this giveaway enters you into our newsletter and you authorize us to send you occassional emails (usually a few times per month, sometimes more) to notify you of special offers, deals, product releases, special content, drills and more from TA Targets. You can opt out of these emails at any time by opting out at the bottom of the emails. Your email will not be sold or given to any other third party except those companies involved in and sponsoring this giveaway. Winner will be randomly chosen from the list of people who entered their information in the form. Odds of winning are fully dependent on how many people enter. Less people entered = higher odds of winner, although there are no guarantees expressed or implied that YOU personally will be the one who wins the prizes. Winning the prize(s) is contingent upon being compliant with these Official Rules and fulfilling all other requirements set forth herein. Giveaway runs from 3:00pm 2/21/2020 (EST) until 11:59pm 3/13/2020 (EST). By July 6th, We (tatargets) will randomly select ONE winner from the email list to win this prize. There will only be ONE person chosen to win from this giveaway. After the giveaway lapses, TA Targets will attempt to contact winners within Three days from choosing a winner. If, after TA Targets attempts to contact the winner, they do not respond within two days of correspondence, TA Targets reserves the right to choose another winner to win the prize instead of the original winner. Participation by employees, vendors, and contractors or their immediate families of TA Targets and is strictly prohibited. There will be no refunds, buybacks, or other monetary compensation of any kind, for any reason. No prize may be exchanged for cash and there will be no substitutions for ANY REASON. Winners name will be posted publicly, by entering our giveaway you authorize us to do this on our social media accounts and website. We will not release any other information publicly other than your name. TA Targets and any company affiliated in this giveaway assume no responsibility for the proper use of the prize(s) and the winner(s) will be responsible for the proper safe handling, storage, and proper use of any prize(s) as well as obtaining proper instruction for the safe use and handling of the products. Disclaimer: All participating sponsors will not be responsible for: any late, lost, mis-routed, garbled or distorted or damaged transmissions or entries; (b) telephone, electronic, hardware, software, network, internet, or other computer or communications related malfunctions or failures; (c) any giveaway disruptions, injuries, losses or damages caused by events beyond the control of TA Targets or any affiliates, subsidiaries, parent companies or by non-authorized human intervention; or (d) any printing or typographical errors in any materials associated with the Giveaway. Giveaway is also subject to our other terms and conditions found on our website at www.tatargets.com.